Hardie Board Colours 2023 – Latest Trends in Exterior Design
Reinventing your home's exterior or crafting a new one? Your choice of Hardie Board colours can dramatically transform its aesthetic appeal. Check out the most updated colour platte from James Hardie's Statement Collection. Join us as we explore trending colours, hardie board products, and handy tips for upkeep.
A Spectrum of Possibilities
James Hardie, the pioneering force behind Hardie Board, provides a wide palette of colours ranging from earthy browns and greys to spirited blues and reds. With a plethora of choices, finding the ideal shade to accentuate your home's style and reflect your personality is a breeze.
As quoted in a This Old House article, "Choosing a siding color for your house is a decision you live with for years." This sentiment holds true for many homeowners, underlining the importance of this aesthetic choice.
Statement Collection and Dream Collection
James Hardie offers two outstanding collections: the Statement Collection and the Dream Collection. The Statement Collection showcases popular colours that have stood the test of time. These 21 Hardie board colours blend well with different architectural styles and geographic locations.
The Dream Collection, on the other hand, is about making a unique personal statement. It features over 700 colours, providing virtually limitless possibilities for homeowners seeking to express their unique style. Whether you prefer muted, understated hues or bold, vibrant colours, the Dream Collection has something to suit every taste.
Top Colour Trends for 2023
Nature-inspired colours are making waves in 2023, with homeowners preferring shades that harmonize with the environment. Here are the top Hardie Board colours for 2023, paired with complimentary colours and style suggestions:
Mountain Sage:
This tranquil green shade is universally adaptable, complementing various architectural styles. Best for achieving a natural, organic look, Sage pairs well with creamy whites or deep charcoals for a striking contrast.
Heathered Moss:
A more vibrant shade of green, Heathered Moss, adds a splash of energy without being overly loud. Compliment it with shades of brown or neutral beige tones for homes amidst lush greenery.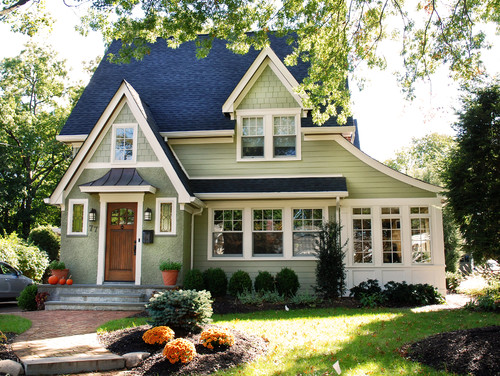 Iron Gray:
A bold, dramatic shade ideal for making a statement. Iron Gray works wonders on modern and contemporary homes. Complement it with crisp Arctic white for a sleek, minimalist look.
Navajo Beige:
Timeless and versatile, Navajo Beige is perfect for traditional and colonial-style homes. It works well with darker accents, such as deep blues or rich browns.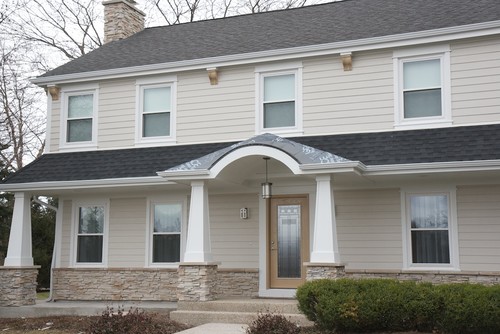 ColourPlus® Coating Process
Hardie Board colours are not merely applied but baked onto the board during the manufacturing process. This process, known as ColourPlus® Technology, ensures the colours are vibrant, durable, and resistant to chipping or peeling. It involves applying multiple coats of paint that are baked in between each application. This creates a strong bond that provides exceptional resistance to fading and wear, even under severe weather conditions.
Warranty
James Hardie stands behind its products with robust warranty protection. For products with ColourPlus® Technology, James Hardie provides a 15-year limited warranty that covers paint and labour, protecting against peeling, cracking, and chipping. To learn more about the different warranty types, here is another post on the differences between prorated and non-prorated warranties. 
Maintaining Your Hardie Board Siding
While Hardie Board is esteemed for its robustness and low maintenance, here are a few tips to retain its charm:
Clean Regularly: Use a gentle cloth or brush with mild detergent to wipe off dirt, and rinse thoroughly using a garden hose.
Inspect Annually: Look out for signs of damage or wear. If any chipped or peeling paint is observed, seek professional help.
Avoid Power Washing: Power washing can harm the siding and might void your warranty.
Bonus Tip: Plan Your Renovation with the House Color Visualizer
For those planning an exterior renovation, James Hardie offers an excellent tool called the House Color Visualizer. This digital platform allows you to experiment with different Hardie Board colours on various home styles before making a decision. Simply upload a photo of your home or choose from the gallery, then apply different colours and see the transformation in real-time. It's a fun, interactive way to envision your dream exterior without any commitment.
The SilverLine Advantage
At Silver Line Exteriors, we are an award winning Vancouver siding replacement company. We proudly offer a broad range of Hardie Board siding colours. Our award-winning team will assist you in the selection process, ensuring your home's colour aligns with your aesthetic preferences. Additionally, our professional installation guarantees stunning long-lasting siding and avoid Hardie siding problems.
In a nutshell, Hardie Board colours can significantly influence your home's visual appeal. With an array of options and the latest trends at your disposal, you can select a colour that truly embodies your style and complements your home's architecture.
https://www.silverlineexteriors.com/wp-content/uploads/2023/05/DSCF5006-min-scaled-e1684000908667.jpg
427
640
Adam
https://www.silverlineexteriors.com/wp-content/uploads/2020/02/Silverline_raster_logo_Tag_trademarked-copy-180x180.png
Adam
2023-05-13 10:57:05
2023-05-13 11:45:27
Hardie Board Colours 2023 – Latest Trends in Exterior Design